2021
SATURDAY 13TH MARCH  
Venue: Zoom
Date & Time: Saturday 13th March 2021 – 09.45-16.00 GMT
Prices : £12 plus £1.09 booking fee
Tickets: Go to: Eventbrite
DCPG invites you to a spectacular day of ceramics from the studios of internationally renowned potters in conversation and demonstrations.  To purchase your ticket and reserve a place, please go to: https://www.eventbrite.co.uk/e/potters-open-day-tickets-137079146417.  All welcome – we hope to see you online!
Members of DCPG received priority booking for this event – see Memberships for more details.  If non-members would like to receive advance information about our DCPG Events, please join our MailChimp email list here: http://eepurl.com/dBLyCr.  You can unsubscribe at any time.
About our Potters Open Day 2021 Event
Internationally renowned artists Ester Beck, professor Vasu Reddy and Vidya Thirunarayan choreographer and potter, will engage in a conversation and performance based on centring – the unscripted and unexpected.
Sasha Wardell is internationally recognised for her pioneering approach to bone china production a material which she finds seductive in its translucency and strength but whose idiosyncratic characteristics provide the challenge which she has mastered through mould making and slip casting.
Thomas Bohle will demonstrate the incessant allure of the unexpected as he builds double walled wheel thrown vessels , each possessing an inner space the Japanese call "ma" which is as important as that which we can see and touch
The Conversation : "On Being Centred"
Join us for this this vibrant, mesmerising and thought-provoking discussion between our 3 guests – blending ceramics and the art of making, with dance and psychology.

Professor Vasu Reddy
For twenty years now as a Psychologist Vasu has been exploring the role of emotional engagement in social understanding, focusing on the everyday, ordinary engagements (such as teasing and joking and showing-off or feeling shy) which often tend to get ignored in mainstream theories.
Her wheel thrown pots explore textures – both in the glazes and in the forms – and seem to be striving for the raw, unpolished expressiveness of emotions.
Ester Beck
After a short career as clinical psychologist and years of independent studies of pottery at different venues in Israel and abroad, Ester has her own studio since 1987, participated in many ceramic exhibitions and held solo shows, and is an active member of the Israel Ceramics Association.
Her concern is with making her ceramic pieces dynamic, imparting motion into the clay, exploring the limits of the material and injecting it with emotion. But at the same time her aim is to capture a moment in the life of the object when it transitions from one state to another, thereby arousing in the viewer a Zen-like experience of both transience and calm.
Vidya Thirunarayan
Vidya trained as a performer in the Indian Classical Dance style, Bharatanatyam. Over the last 25 years, as a dance artist she has been privileged to work within the various facets of the performing arts.
She is in her element when making something, whether it is a dance movement or a clay pot. "It is the process rather than the end product that continues to fascinate me"
She experiments with different clays and their potential to express an inner impulse. She loves the spontaneity of surface decorations and in recent month has stretched to include Sanskrit verses from the ancient Vedic philosophy.
Sasha Wardell
Sasha will unveil many of the secrets and processes behind model and mould making, slip casting and surface decoration.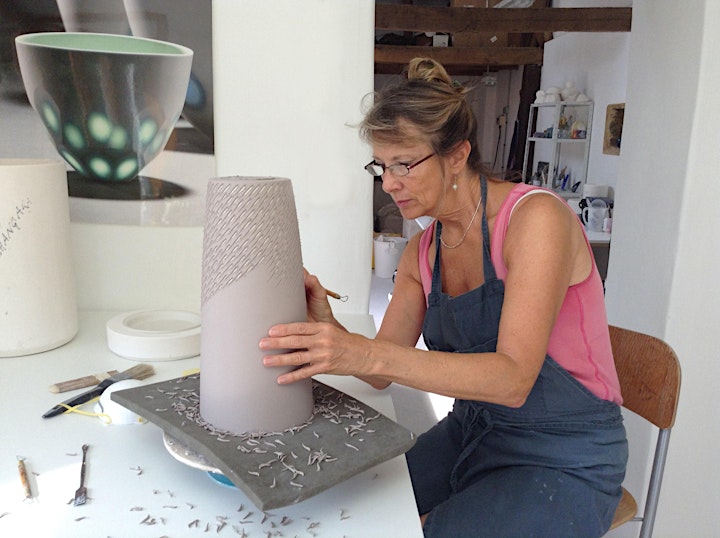 Thomas Bohle
Thomas will demonstrate his fabulous double walled throwing techniques. Why not join in from your wheel in your studio ?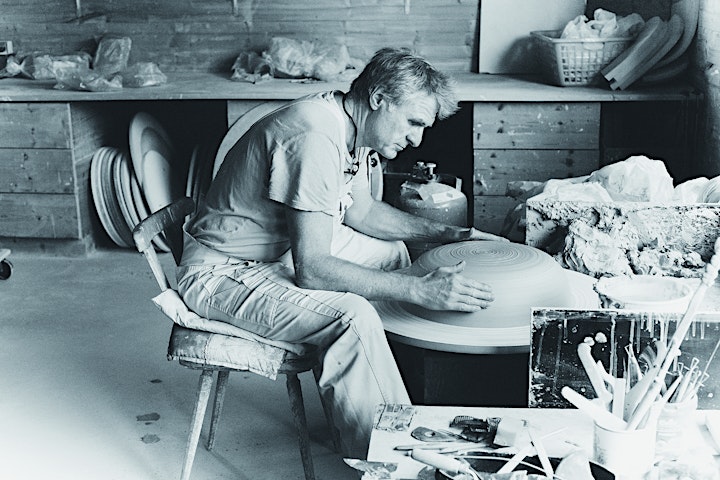 Go to: Eventbrite to book your 2021 ticket!  All welcome – we look forward to seeing you online!
2020
SATURDAY 7TH MARCH
Three charismatic Potters took to the stage for the 2020 DCPG annual Potters Open Day; Professor Stephen Dixon, Wendy Lawrence, Brendan Hesmondhalgh.  Stimulating talks and informative demonstrations, with works on sale, homemade refreshments available and desirable raffle prizes.
See video of Brendan demonstrating on our Instagram account here: https://www.instagram.com/p/B9cGv48ggtO/
See video of Wendy demonstrating on our Instagram account here: https://www.instagram.com/p/B9bqqw2AZN0/
See April 2020 Newsletter for full review of the brilliant event!
Venue: Sandpit Theatre, Sandringham School, St Albans AL4 9AX
www.sandpittheatre.co.uk
01727 799565
Date & Time: Saturday March 7th 2020 – 9.30am – 5.00pm
Tickets: sold online or in person
Prices : DCPG members £20; Non-members £30